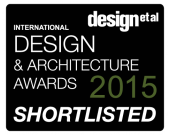 International Design & Architecture Awards 2015
Residential £2.5 – 5 Million (Project Value)
About the project
The brief was to match the outstanding contemporary architecture of a minimalist villa built on a cliff above the sea, exclusively for a couple with grown up children. The client requested an elegant space for their holiday retreat, where they could entertain while rejuvenating in maximum comfort.
The interior design assignment responded not just to the client's desires, but also to the building and its location in Andratx, one of Mallorca's most striking destinations. The result is an exquisite and highly original interior, which blends harmoniously with the scenery and ocean views, marrying modern furnishings with the finest natural materials.
Across the main spaces, the palette of dove and ivory blends with accents of chrome, marble and glass, while the formal dining room contrasts with dark, sumptuous tones. Across the villa there are blends of textures, from shimmering velvets and natural woods to 'piedra mallorquina' stone and Portuguese marble.
The finishes all illuminate the natural light, which floods in through the floor-to-ceiling windows, finished with state-of-the-art motorized blinds. Design features such as the bespoke chandelier in the entrance hall are created to further define light. This beautiful creation was made from 148 hand-blown Murano glass elements in six contrasting colours.
The outside spaces have been carefully composed with furnishings and accessories that blend an ivory and turquoise scheme, repeating the colours of the surrounding seascape.
Taylor Interiors worked closely throughout the construction process with PH Mallorca, a developer working on highly exclusive and acclaimed villas in the Mediterranean.
The exterior and interior of this special villa make it arguably one of Mallorca's most coveted properties.