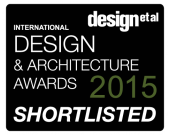 International Design & Architecture Awards 2015
Living Space - Europe
About the project
The brief was to match the outstanding contemporary architecture of a minimalist villa, built exclusively for a couple with grown up children. The clients requested an elegant space for their holiday retreat, where they could entertain while rejuvenating in maximum comfort.
The interior design brief responded not just to the client's desires, but also to the building and its location in Andratx, one of Mallorca's most striking destinations. The result is an exquisite and highly original interior, which blends harmoniously with the scenery and ocean views.
The ground floor offers light, capacious living spaces, with informal and formal living rooms. And across the villa, a palette of restorative neutrals illuminates rooms with light that streams in through the floor length windows. All rooms, including the six bedrooms, have breathtaking sea views.
The highly luxurious décor is finished with the finest natural materials, married with ultra modern furnishings. Plush velvet and leather contrasts with sleek marble and exquisite glass lighting. In the dining room, the light scheme is jettisoned in favour of a dark sumptuous palette, accompanied by dramatic wall lamps and black velvet curtains.
The high specification kitchen, which blends modern finishes with traditional craftsmanship, continues outside, allowing for alfresco cooking and entertaining.
The interior design has succeeded in creating living spaces that are welcoming, comfortable, pampering and harmonious.