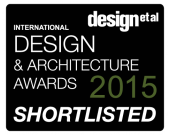 International Design & Architecture Awards 2015
Kitchens over £100,000
About the project
The overall brief was to match the outstanding contemporary architecture of a minimalist villa built exclusively for a couple with grown up children. The clients requested an elegant and modern kitchen designed for entertaining, where they could hold parties and events and allow all of their guests to feel a sense of restful wellbeing.
The kitchen also required the technical functionality to allow for private dining chefs and catering teams. Taylor Interiors met the brief through selecting a bespoke high specification Bulthaup kitchen with cutting-edge Gaggenau appliances. One of the most original and unique features is the central island, where the worktop is cut from a 360cm long, monolite of stainless steel to create a sinuous finish.
Dual dining and preparation spaces were also provided. The cohesive design language keeps consistently to a palette of ivory and Baltic grey, balanced with white glass and stone features.
A feature wall indoors is clad in random stone and this is continued in the highly original outdoor kitchen. The stonewalls are of the local Mallorca style and were built by local craftsman in the traditional way, so each stone is carefully shaped and carved.
In the outdoor kitchen, a Grandhall barbeque is set within a raised walnut unit and a pizza oven has been cleverly built into the wall, using the repeating stonework. All of these features ensure the kitchen is a carefully considered blend of contemporary design and local craftsmanship.