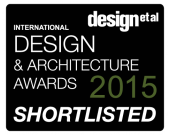 International Design & Architecture Awards 2015
Bathroom
About the project
Part of a capacious villa in Andratx, one of Mallorca's most striking locations, the client requested a simple aesthetic for the bathroom. The design concept met this brief by creating a timeless serenity which, rather than overtaking the setting, allows you to be enraptured by the exceptional sea views through the floor-to-ceiling windows.
Opting for an ivory palette and choice of the finest natural materials and finishes, Taylor Interiors has succeeded in making the bathroom feel sinuous and fluid, working in harmony with nature. The Portuguese marble "crema" walls and floors blend seamlessly through to the sink, cut from a single piece of the same marble, hung above a bespoke American walnut vanity unit.
Every element of the bathroom is carefully considered, from the sleek Hansegrohe taps to the motorized blinds, it offers the owners a space to feel pampered and rejuvenated.
The design concept is also highly personal, with added accessories such as robes, towels and hangers embellished with a Casa Sol logo. The freestanding bath is strategically placed as the centerpiece of the room, once again allowing the viewer to fully engage with the vista.
Taylor Interiors has built close relationships with the finest local artisans and craftsman, allowing the material choices to be deeply rooted in their locality.