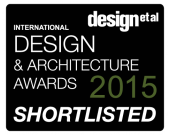 International Design & Architecture Awards 2015
Bedroom
About the project
The master bedroom is one of six bedrooms in a stunning villa close to Ascot in rural England. The architectural style of the property, built in 2011, includes classical characteristics combined with modern touches.
The clients, a married couple, requested their own rooms, so the master bedroom was injected with femininity and designed especially for her. A colour scheme of cream and pale rose was selected, highlighted with Manuel Canovas Zara Beads wallpaper.
The spacious room allowed Taylor Interiors the option of creating a comfortably sumptuous seating area with a Pigoli sofa and armchairs, combined with Porada high-gloss side and coffee tables. Pigoli also produced the opulent headboard upholstered in cream frozen velvet by Carlucci. To add further definition through the furnishings, stunning Fendi table lamps with silk pale rose shades accompany Fendi bedside tables in a cream high gloss finish. A main requirement from the client was for spacious wardrobes and Taylor Interiors commissioned beautiful wall-to-ceiling cupboards with exquisite glass doors.
The curtains were created using Designers Guild satin cream and pale rose fabric, the tiebacks and pelmets with cream trimming are also by Designers Guild. The fireplace and wall mounted TV are features to add high levels of comfort and the Taylor Interiors seamstress made a variation of scatter cushions for the bed and sofa to add more cosy definition. Original artworks by Nicole Pletts also add atmosphere to this highly luxurious bedroom design.