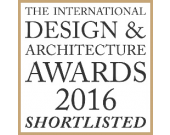 International Design & Architecture Awards 2016
Living space - UK

About the project
This palatial Victorian townhouse in the heart of London's Chelsea has been immaculately redesigned and refurbished by Taylor Interiors. While staying in keeping with the property's history, which has striking Italianate stucco features to the exterior, the new and highly luxurious interior design for this five-storey home has a truly contemporary twist.
Rooms are reimagined with sumptuous fabrics and wallpapers. The first floor sitting and drawing rooms have beautiful historic details perfectly intact, like the ornate cornicing and wall panels. The panels are decorated with wallpaper by French company Casamance, while the surrounding walls are painted in a calming shade of corda.
Furnishings, including sofas, armchairs and footstools are upholstered in either ivory velvet with ostrich pattern or warm dove frozen velvet. The overall look is completed with a Victorian sandstone fireplace and two exquisite chandeliers by Reflex and Murano glass. Above the dining table hangs a chandelier made from 190 transparent glass pieces in silver, gold and turquoise, which is in a similar style to the one seen in the entrance of the Victoria and Albert Museum.