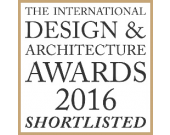 INTERNATIONAL DESIGN & ARCHITECTURE AWARDS 2016
LIVING SPACE - GLOBAL
About the project
This classic penthouse apartment has private terraces with exceptional views across Rome's renowned skyline. The concept for the apartment is unique in its exceptional attention to detail. Repeating motifs and a uniform palette are streamlined to ensure every element feels cohesively aligned. The spacious living areas combine two reception rooms, a master suite, two bedrooms, a dining room and kitchen.
The interior design concept for the living spaces reflects a new definition of understated luxury. Devoid of ostentation, it focuses on the true craftsmanship of Italian design. It is an intellectual journey into form and artisanship, using the finest materials and fabrics, from decorative marble to blown crystal and vernacular traditional detailing has been maintained.
Decorative details are presented with finesse. Handcrafted Vistosi glass chandeliers accentuate ceiling recesses. Wooden wall panels are painted with white detailing, which is mirrored across the marble flooring. In the entrance hall a gold motif embellishes the floors.
In the main reception room, an accent of cobalt blue velvet makes a striking contrast to neutral walls and curtains. Pops of the elegant material is visible in the upholstery of the dining chairs and cushions on the Busnelli sofas. A bar is built next to the fireplace, which is illuminated from behind. In the second reception room, a marble fireplace is presented alongside accents of glass, crystal and velvet reflected in the furnishing and accessories, providing maximum comfort and refinement for the property's stylish residents.
Submitted by: REBOSIO+SPAGNULO