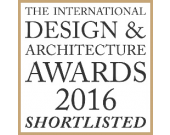 INTERNATIONAL DESIGN & ARCHITECTURE AWARDS 2016
RESIDENTIAL £2,5 - 5 MILLION
About the project
Igor Rebosio and Federico Spagnulo, reimagined a traditional apartment in central Milan for a creative couple who are avid art collectors. The goal was to emphasize the property's architectural features, while creating contemporary spaces to showcase the impeccable style of the clients and present their splendid art and design collection.
Paintings and sculptures required careful consideration to ensure they were not a secondary element, but instead, were central to the concept. Bespoke display units have been strategically designed and built to display artworks and books, particularly in the living room and the stunning entrance hall, which features two handcrafted units especially made for key sculptural pieces.
Suspended ceiling panels with thoughtful LED lighting design and decadent chandeliers add a glamorous finish to the sumptuous living spaces. The designers have presented a 20th Century aesthetic reimagined with contemporary elements and traditional features, alongside classic design pieces and exquisite cherry wood parquet flooring.
Every living space has been impeccably curated, from the sitting room to the separate piano room, games room, dining room and kitchen. The sitting room reflects 20th Century design with contemporary elements. A large floor lamp by Flos is a stunning features, placed next to a Minotti sofa and armchairs by Poltrona Frau.
The dining room is furnished with a black antique sideboard, echoing a mid-century aesthetic. The piano room is beautiful in its simplicity, with a suspended ceiling panel framing the stunning chandelier and silk ivory and taupe curtains.
Repeating visual motifs include the stucco pattern cement flooring in the entrance hall and games room and the brass trim, which is echoed across the door panels and is a striking detail on the fireplace, also in the games room. Two classic Vitra lounge chairs and an ottoman are placed next to the fire, creating a stylish place to relax.
Submitted by: REBOSIO+SPAGNULO