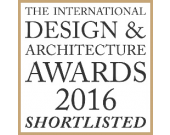 INTERNATIONAL DESIGN & ARCHITECTURE AWARDS 2016
BATHROOM
About the project
The clients' refined style and passion for contemporary art required an interior design concept that would interpret a completely new language outside the traditional ways of expression and complement the architecture of this exceptional private villa in Milan. Designers Igor Rebosio and Federico Spagnulo have reinterpreted artistic movements, from modernism to cubism, and created a design theme inspired by the exquisite curving form of the property's central spiral staircase.
Taylor Interiors focused their concept on comfort and personal wellness, designing the exquisite bathrooms as miniature spas. The master bathroom is separated from the bedroom by a panel of smoked glass, evoking the stylish elegance of a luxury hotel. A floor level Duravit Jacuzzi bathtub is the centerpiece, set upon a finish of dark Emperador marble.
A rain shower is placed above the sleek flooring and bespoke hand basins are cut into the yellow marble unit, completed with Hans Grohe taps. The stunning wall tiles are individually cut and designed in a geometric design and the large mirror above the sinks reflects light, adding to the bathroom's uniform treatment of reflective and iridescent surfaces, using a repeated palette of brown, grey, bronze and cream. The recessed ceiling holds LED lights to create a variation of lighting moods for day and night.
In the basement, a private living room leads to a spa area with sauna. The Turkish bath follows the design theme with curving walls, finished in Sicis mosaic. The stunning indoor pool is also curvaceous in form, ensuring every element of the property is aligned with the overall creative vision.
Submitted by: REBOSIO+SPAGNULO