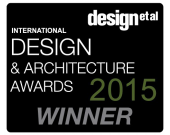 International Design & Architecture Awards 2015
Living Space - Europe
About the project
The capacious villa, designed by architect, Diego Tobal, is one of the most exclusive in the Andalucía mountain area. Set high on a hill, yet designed with flat gardens and grounds, the front is exposed to striking ocean views, while to the left of the property, there are mountainous vistas.
The property is as striking as the landscapes surrounding it. The sumptuous interior spaces are designed to offer the client a holiday home to rejuvenate and restore in comfort, with carefully curated rooms for entertaining.
The numerous outdoor spaces offer covered seating and socialising areas. The large sofa opposite the infinity pool is designed to allow the pool views to melt into the sea and to take in the incredible sunset views. A covered terrace "Chiringuito" with barbeque can entertain up to 30 people. The contemporary white furniture, from the Elements collection by Manutti, is used throughout, ensuring the outdoor areas feel cohesively joined.
The unique layout of the villa provides a diversity of spaces, where mixed ceiling heights play with visual scale. In the living room, the ceiling is lower in a cosy seating area, which rises to 5.5 metres in the main space, where a white, buttoned suede sofa is the centerpiece, placed next to sleek leather armchairs.
A dark and sumptuous palette repeats across the master bedroom and bathroom, yet in the living room, this is juxtaposed with an ivory scheme to complement its light position next to extensive windows with views of the swimming pool. Accessories such as the chocolate brown velvet cushions, with a subtle leopard print, marry the schemes together, ensuring all the living spaces feel cohesive in this unique and highly luxurious villa.